Sounding Kite
— Workshop with Marije Baalman —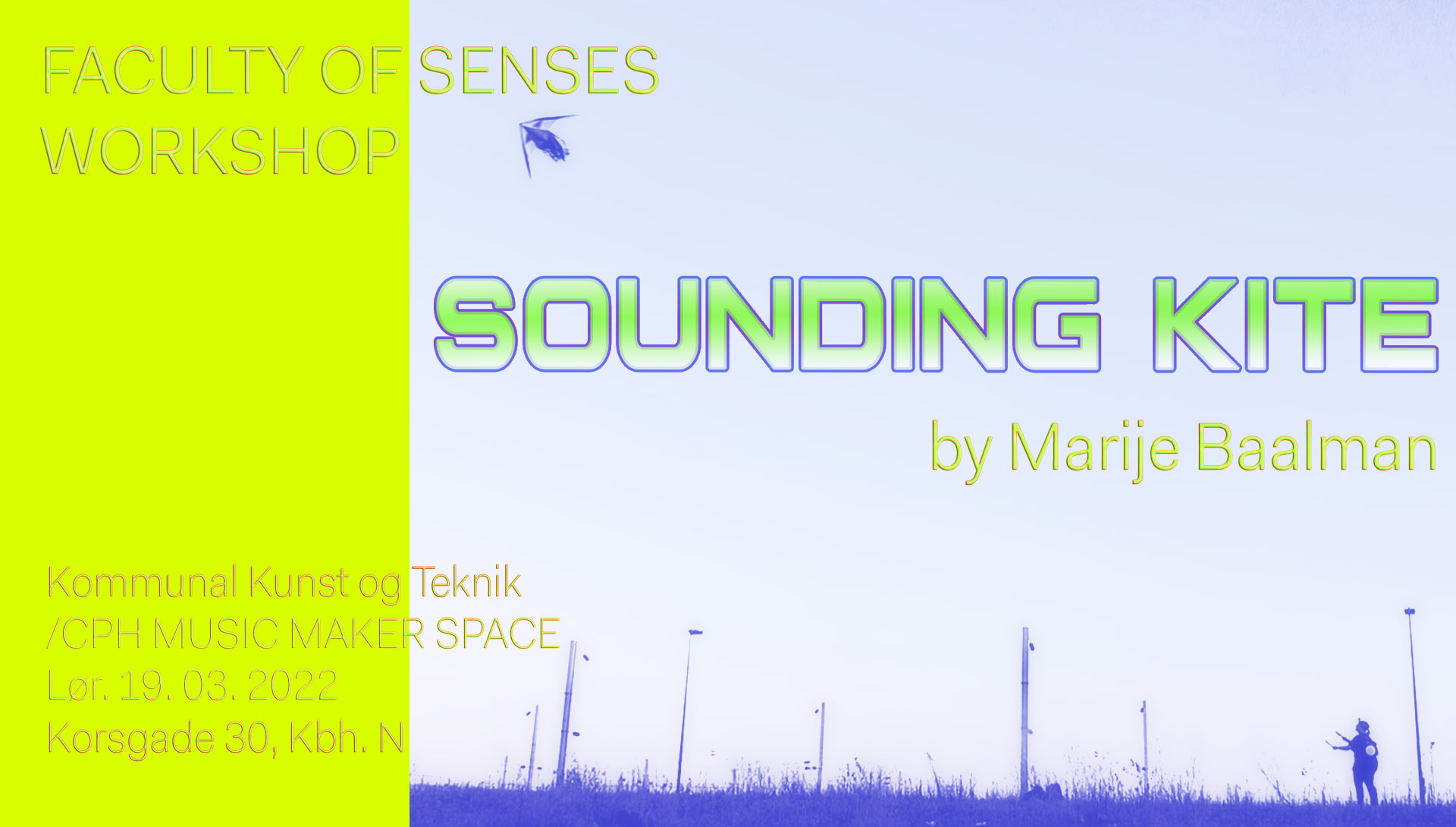 We explore kites as musical instruments. The workshop is facilitate by the Dutch artist and researcher, Marije Baalman. She works in the field of interactive sound art.
During the workshop we will build a simple kite (sled kite) with electronically conductive materials with which we can sense the air pressure and turbulation on the kite. We will experiment with different ways of building sensors for the kite. Thereafter, the sensed data will be sent to a computer, where it is visualized and sonified in realtime.
Participants will learn about kite building, building sensors from conductive materials, and using sensor data to create sound.
This workshop is a part "Play it on the Sky – Borderless Praxis with Kites" which is Faculty of Senses's continuous interest on the kite as a form of art. Last year in September, we held the workshop "How can we translate an urban space into kite?" by Toshie Takeuchi, Victor Valqui Vidal and Anne Eisensee.
Play it on the Sky is an experimental platform to explore building and flying kites; its traditional yet generic multicultural aspect, its sensoriality, its potential for metaphorical story-telling, it as community building and it as manifestation. Play it on the Sky wishes to continue making space for building, gathering and happenings over a long term.
Date: Sat. 19th of March 2022
Time: 12.30 - 17.30
Location: Korsgade 30, Kbh. N (CPH Music Maker Space)
Language: English
Participation fee: 75 kr. (You can bring the kite back home) Max 10 ppl
Snacks and drinks are included.
Reservation can be made via MobilePay:50396861 (Toshie) or via Biletto. Click here!
By cancelation later than 7 days prior to the workshop, money cannot be returned, instead please give the ticket to a friend so the prepared material is not waisted.
Kontakt: toshie@facultyofsenses.dk / +4550396861
This workshop is organized by Faculty of Senses,
KKT - Kommunal Kunst og Teknik
and
CPH Music Makers Space
.
About the artist:
Marije Baalman
Marije Baalman is an artist and researcher/developer working in the field of interactive sound art. She worked as a hardware engineer at STEIM between 2011 and 2016. Since 2010 she works as a freelance artist and developer from Amsterdam. Her current research goes into the use of wireless networks for live performance, installations and interactive environments.
In her artistic work she is interested in the realtime components of the work. This is expressed with tools such as physical computing, livecoding, digital and analog sound processing, and improvisation. To realise her works she mostly uses open source technology (software and hardware) and she is an active contributor to the open source community.
Marije is a contributor to "The SuperCollider Book" (MIT Press, 2011), and she is currently writing a book titled: Composing Interactions - An Artist's Guide to Building Expressive Interactive Systems.