Faculty of Senses, meeting #8
Rituals for Decolonization
— Healing through ancestral work —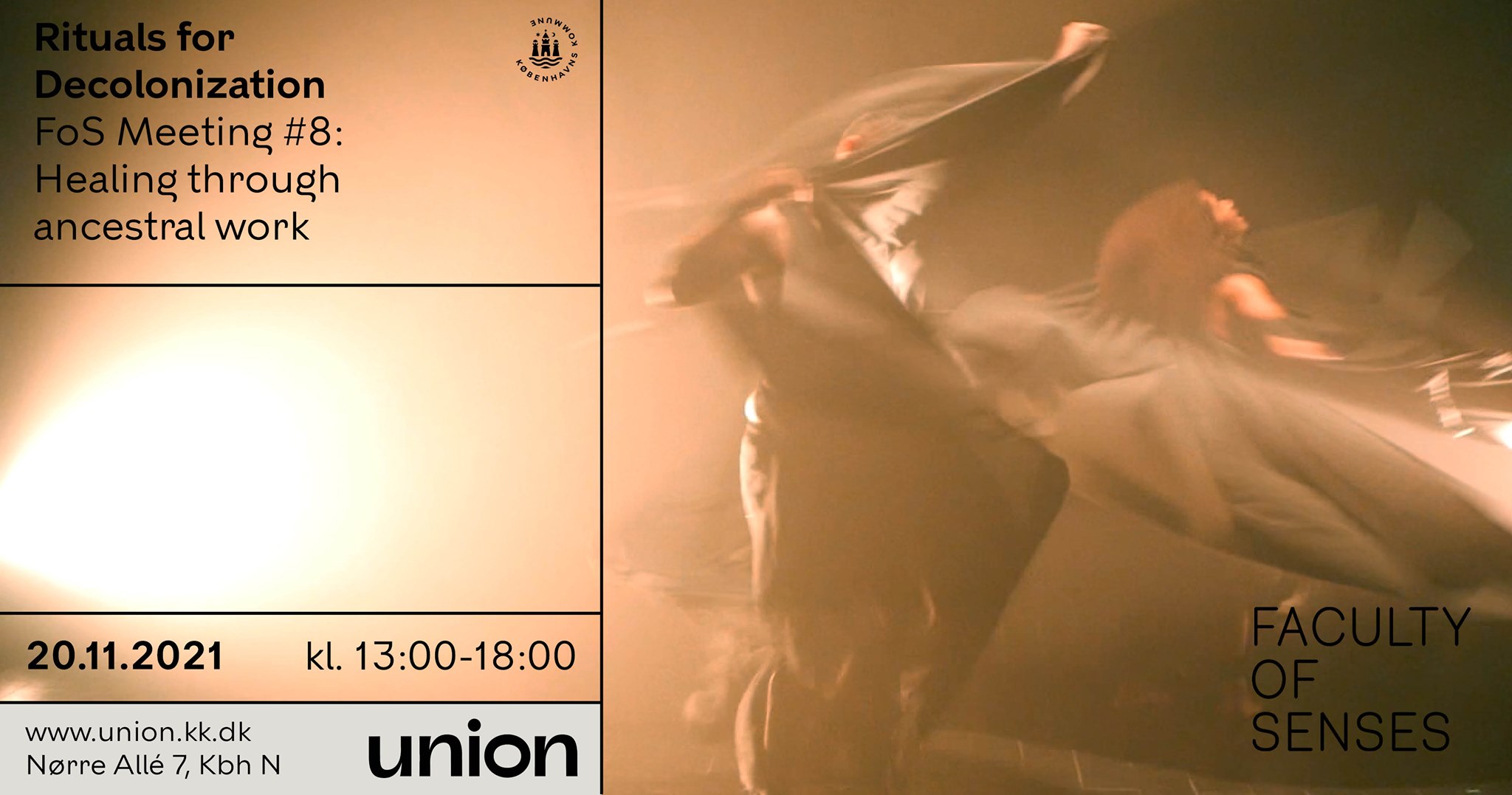 Photo by Yudit Maria
Union KBH, November 20th 2021
A Workshop with Fazle Shairmahomed og Toshie Takeuchi.
Fazle and Toshie will share ways of healing through ancestral work, which is rooted in spiritual practices of meditation, writing, body movement, dance, multi-sensorial stimulation, altar making, and group talks. Our aim is to create a decolonial safer space where we can develop an understanding of what communal healing could look like in a society that is continuously coming into existence through colonialism. The history and reality of different people who were forced to migrate still exist in systems today, in which people are being marginalized, oppressed and excluded.
You will be prepared with exercises that are inspired by Butoh, Body Weather, Gnawa and Zar, bringing us to bodies that do not exist anymore, the soul inside of us, towards the politicized body in which we exist. We explore how our bodies relate, and how the transcendental exists within the presence of a group. We will work on a consciousness of how to get into this state and find your own path towards controlling or letting go.
We explore how our bodies relate, and how the transcendental exists within the presence of a group. We will work on a consciousness of how to get into this state and find your own path towards controlling or letting go.
We start the workshop by formulating our personal intentions through a writing ritual, followed by body work and dance in which we will focus on the relation between the heart and hara (center). While the heart is the space of feelings and emotions, the hara is the source of strength and rootedness.
 This workshop will focus on Queer, Black/Brown, Indigenous, People of Color, but is open to anyone being mindful of the experiences of QBIPOC being centred. No prior experience is required, but it is in your own advantage if you identify yourself with the fight for decolonization.
Note: Before the workshop, we will ask you to conduct a short homework assignments in order to collect writings through which you meditate on the relationship with your ancestors, and to collect elements for your personal altar.
20. november kl. 13-18
UNION (1. sal Aula)
Nørre Allé 7,
2200 København N
(The language will be English)
Price (normal): 40 kr.
Price (low income): 1 kr.
(Registration is closed!)
Note: Come with clothes that you can move freely. We work with bare feet. There will be a small assignment (text writing and collecting symbols) before the workshop.
Contact: toshie@facultyofsenses.dk
Tel: 50396861 (Toshie)
About the artists:
Fazle Shairmahomed
Fazle Shairmahomed creates decolonizing rituals, performance art, and dance. Their work is rooted in ancestral work and intersectional activism. Through the urgency of community building their work creates spaces in which different communities are invited to nurture conversations around colonialism and the ways in which it has impacted our histories and the ways in which it exists today. The multi-sensorial approach in their work also challenges the ways in which we perceive the world around us through themes such as death, rebirth, ancestry, belonging, colonial histories, and healing.
The physical work and research of Fazle is deeply rooted in ways of approaching the state of trance, through archaic movements and ritual practices mostly inspired and informed by Muslim/Sufi traditions of Gnawa, Zar, the whirling Dervish; Japanese Butoh, Surinamese Winti culture, Hindu rituals, Caribbean Bubbling, Muslim funeral practices, Vogueing, and the Club.
Fazle was born and raised in a multicultural society in de Transvaal/Schilderswijk in Den Haag, in the Netherlands, they feel very hybrid, and identifies currently, but not exclusively, as Dutch, Surinamese-Hindustani, Indo-Caribbean, Muslim, Queer, non-binary, and as a person of color. Since 2013 Fazle is one of the members of CLOUD danslab, an artist run dance studio which supports research and practice of dance, movement, and performance art in the Hague.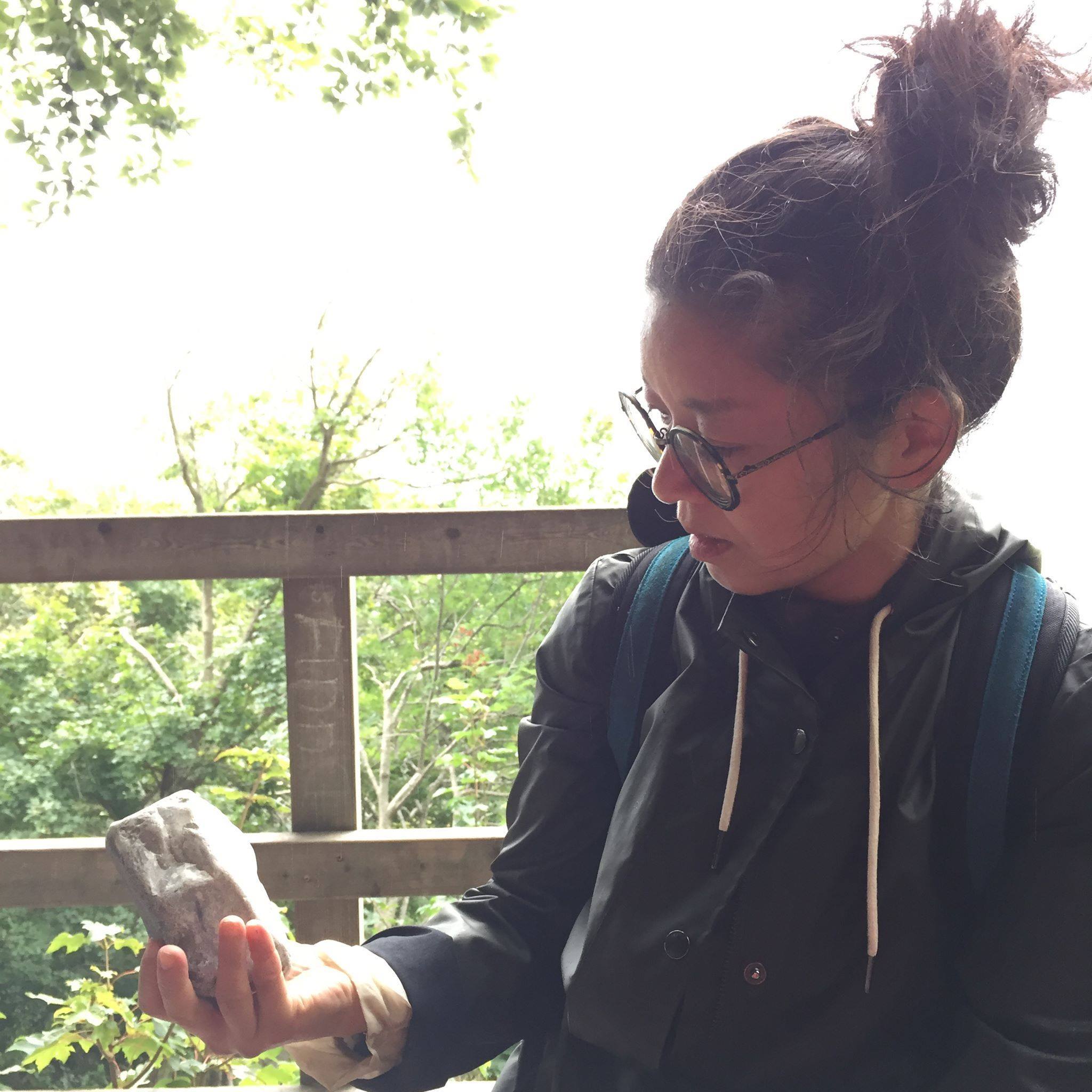 Toshie Takeuchi
Toshie Takeuchi is a visual artist, living and working in Copenhagen.
She likes to work with peoples' personal memories and narratives in and around specific sites/places, particularly focuses on unregarded non-famous stories, as a starting point for local reflection on larger territorial/spatial narratives. This is because she wants to participate in expanding potential of these specific sites/places.
By "site/places", Takeuchi is also interested in psychological inner space as an intangible territory within the boundary of the physical body. The body is considered as a powerful medium for perception and archiving memories. Because of invisible and immaterial quality, the inner territory has a greater potential for expansion than physical object, like a piece of a land. It also knows better method for smoothing hierarchical levels between different categories, different events or different relationships, when the perceptions open wider. Thus, Takeuchi likes seeing the territorial potential of the bodies in the specific sites, where she investigates. The place, the boundary and the body work together and are, in her opinion, inextricably linked to creating change in common understanding.
Her researches and field-works often resulted in a form of film, photography and performance.