Faculty of Senses, meeting #1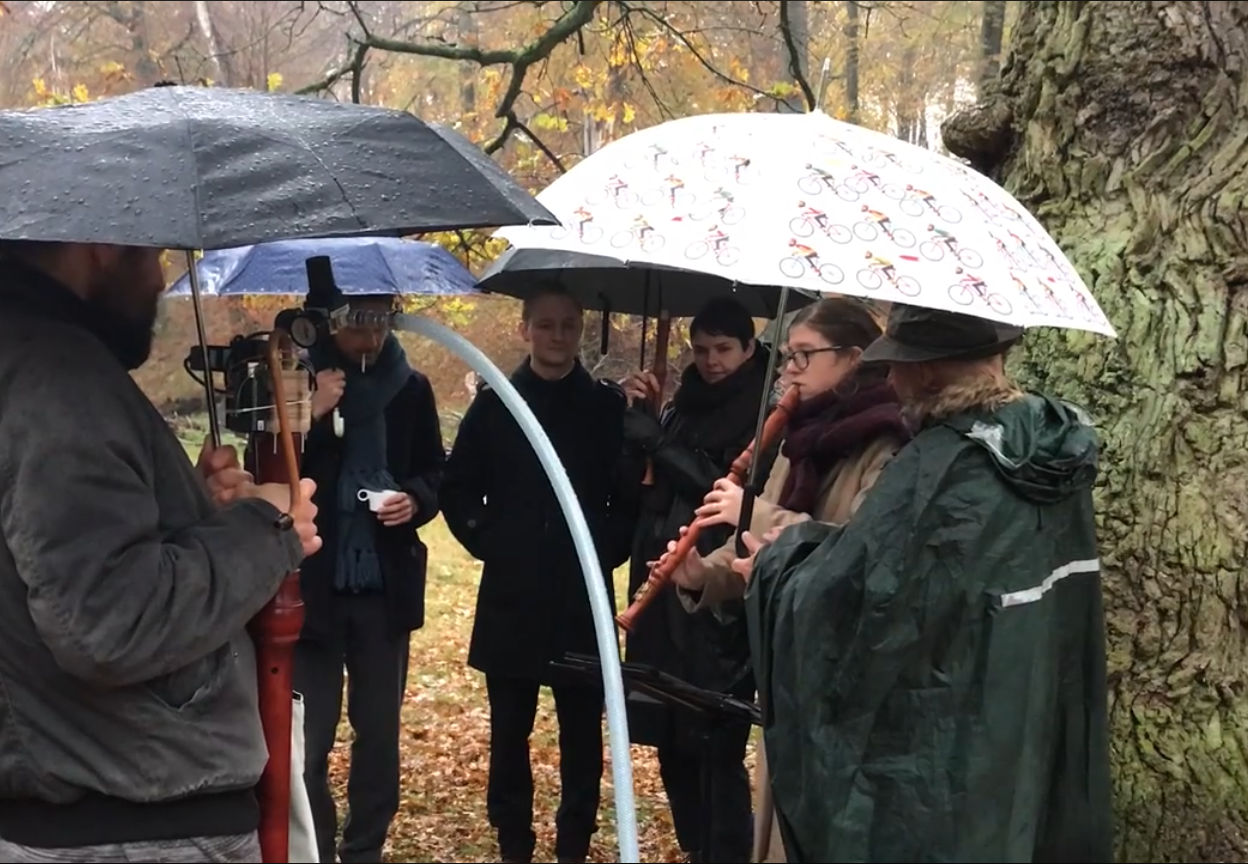 Dyrehaven, November 2nd 2019
This was a real tough beginning of the Faculty of Senses meeting series.
We had chosen an outdoor location behind Djævlebakken in Dyrehaven (forest north of Copenhagen) as a perfectly picturesque setting for the meeting. What we didn't plan was the persistent all-day rain that even intensified toward an intense peak just as Kirsten Aage started playing the subtle opening of Lars Kynde's Vindens Korridorer (Corridors of Winds). The piece falls in four movements of which the second movement is really silent. This subtle movement, in which Kirsten sings through the alto recorder thus mixing her voice with the tones of the flute, was meant to spread out in the forest and accompany all the small sounds present: maybe a woodpecker or a herd of deer far away. Instead it rained so hard that the drops on
the umbrellas became the main theme of this movement.
In third and fourth movement large amounts of sensitive equipment is needed as the bass recorders used in this movement are to be extended with first a high pressure air compressor and later a feedback system attached to the flute. Due to the really loud sound of the recorder when fed from the air compressor, the third movement became a worthy companion to the harsh weather. The fourth movement though we had to give up as the musician literally got cold feet! So did prominent members of the audience (high percentage of children joint this first meeting). Luckily we were equipped with large amounts of hot chocolate, and with this we might have been forgiven for luring everybody out in the cold weather.
About Vindens Korridorer
Composed by Lars Kynde, commisioned by Kirsten Aage for her Debut Concert 2019.
Værket arbejder med hierarki og resonans. Dets form afspejler kampen mellem tre skiftevis dominerende parter: Komponisten, Musikeren og Instrumentet. Blokfløjten bliver igennem de fire satser mere og mere udbygget og bevæger sig dermed væk fra den klassiske klang som vi kender den.
Samtidig frigør den sig efterhånden fra musikerens livgivende ånde, idet den i første omgang lærer at trække luft fra mekaniske lunger og siden formår at vibrere helt uden luftgennemstrømning.
Første sats starter som i de gode gamle dage da komponisten styrede node for node og instrumentet befandt sig som slave nederst i hierarkiet. Dog, når fløjten i beriget tilstand rejser sig som en cyborg, ser vi, at de klassiske skalaer blot er makeup på fløjtens naturligt skæve ansigt.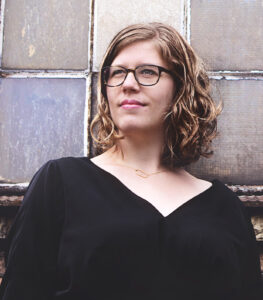 Kirsten Aage
Kirsten er aktiv indenfor både den tidlige musik og den mere eksperimenterende kontemporære scene. Hun er uddannet blokfløjtenist fra Syddansk Musikkonservatorium og Skuespillerskole og debuterede fra Det Kongelige Danske Musikkonservatorium solistklasseuddannelse i februar 2019.
Hun har ligeledes studeret i Tyskland på Staatliche Hochschule für Musik, Trossingen og været på tre ture til Japan (2013, 2016 og 2017) for koncertvirke samt dybdegående studier af traditionel og nyskrevet japansk musik til både hendes solo program til duoprojketet 'The Secret in The Sound' med sanger Helle Thun. Kirsten har også erfaring som producent af koncerter i foreningen Amager Klassisk' regi. Udover Kirstens virke som freeelance musiker er hun også tilknyttet 'Den Lille Musikskole' på Frederiksberg hvor hun underviser i musikalsk legestue, hørelære og blokfløjte.